Sadie and Beethoven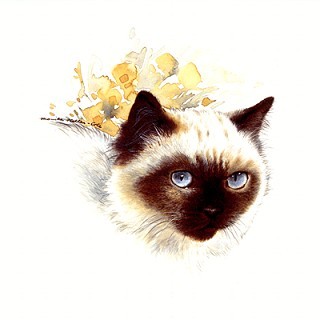 Some 50 years ago, cat fanciers decided to try to create a cat of Persian coat and type but with the colour pattern of the Siamese. In North America the resulting cats were called Himalayans, while in Europe they were classified as Colourpoint Long-hairs. The Himalayan is one of the most popular of all Persians. The Himalayan is shown in the following point colors: chocolate, seal, lilac, blue, red, cream tortie, blue-cream, chocolate-tortie, lilac-cream, seal lynx, blue lynx, red lynx, cream lynx, tortie lynx, blue-cream lynx, chocolate lynx, lilac lynx, chocolate-tortie lynx and lilac-cream lynx. Color is restricted to the facial mask and extremities with the body of various shades of white to fawn. Himalayans were developed by breeding Persians to Siamese to combine the Siamese point coloring with Persian type. After many years of cross breeding they were approved as accepted color variations of Persians. All must have deep vivid blue eyes as eyes other than blue are a disqualification.
---
Pictures of my babies
---
Sadie
Seal Point Himalayan
Passed away on 10/13/06 at 8:55 am She will be dearly missed.
---
Beethoven
Lilac Point Himalayan.
Passed away on 09/12/11 He will be missed.
---
Sadie and Beethoven
---
---
Looking to buy a pure breed cat check here

Top Ten Most Popular Breeds! According to the CFA registration statistics for 2007, following is the ranking for the Top Ten Breeds.
Persian

Maine Coon

Exotic

Siamese

Abyssinian

Birman

Oriental

American Shorthair

Tonkinese

Burmese
CAT TRIVIA
---
Making your cat fall in love with you--romancing your cat
Some tips on cat care
Cats need love and affection, just as dogs do. But, you need to let the cat come to you.
Cats need their space. Let certain areas be off-limits to you except for cleaning and maintenance. An space that provides privacy and some darkness will do.
Cats like it when you talk to directly to them--use animated tones but keep your volume fairly low.
Do not "crank it up." A loud stereo causes incredible stress in cats.
If your cat has a behavior problem, work with your veterinarian to overcome it. Using the wrong methods will only make the cat resent you and behave even worse.
If you pick your cat up (such as when going for a walk and encountering a dog), support the cat's weight under the butt. Never pick a cat up by the arm pits or the belly--think of how you would want your weight supported if lifted up. Then make a little more allowance for the cat. Don't ever pick a cat up by front or rear limbs.
If the cat "chirps" at you and walks away, that is a sign that you are to follow. Act inquisitive, and mimic the cat's sounds. This lets the cat know you are interested in what s/he has to say.
Cats love to "help" make the bed. However, rather than get cat dander over freshly-laundered sheets, let the cat "help" you make the bed the morning before you wash the sheets. At other times, shut the door and let the cat in when you are done.
Learn how best to stroke your particular cat by practicing various light strokes around the ears, chin, sides, back, and other places while gauging the cat's reaction.
Don't feed your cat table scraps. To give your cat variety, you can use "people food." But, use small amounts of such food as an occasional treat. Tuna mixed with yogurt and chopped vegetables (broccoli works well) will give your cat a nutritious, delicious snack.
Follow these tips, and you'll have your cat purring all the time. Be considerate and thoughtful, respecting your cat's need for privacy and sense of control. The end result is your cat will follow you everywhere, even the shower, just to be with you.
---
---